This post is also available in:

Français (French)
If you are living or planning to live or invest in Brittany/ France, you are liable to encounter various problems in your daily life, especially if the command of your spoken or written French is not quite up to the mark. This is where we can help you.
Our aim is to make your transition into France pleasant and problem free. We are efficient and offer comprehensive services at competitive prices in the following fields:
Bonneau Services is one of the oldest translation and relocation companies in Brittany accomplished in customer satisfaction. Many long-standing customers place their trust in us and new customers are delighted by our efficiency and proven results. To find out more, read what they have to say about us here.


Let us help you settle in Brittany, or elsewhere in France, whilst saving you time and money. We offer comprehensive services to assist you in all aspects of your life in France.
We would be glad to hear from you should you require further information or a customised quote.
A professional translation enhances your image and avoids misunderstandings about your services, products or views. A person who is simply bilingual does not possess the required skills of a translator or an interpreter. Moreover, translations carried out by software often lack fluidity and relevance. Technical terms must be precise.
With over 30 years of experience as a Translator, Interpreter, Proofreader, Executive HR in charge of expatriates/administrative matters and Office Manager, Aiesha Bonneau Greenfield was employed by leading banks, an Embassy and renowned companies in Paris and abroad. Read more about her professional experience here.
We also offer comprehensive services ranging from prospecting to assisting in the management of your home or business. If we are unable to undertake specific tasks, we can refer you to specialists and even liaise with them on your behalf. We have the contacts.
We are conversant with the French administrative system and are able to assist you with all formalities.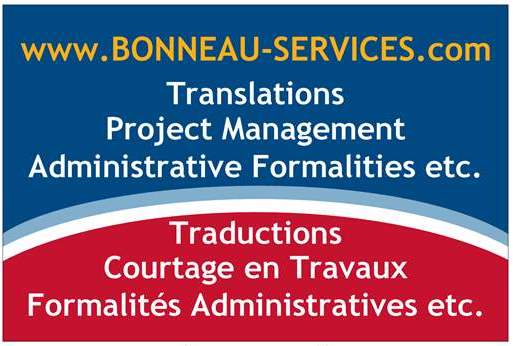 Relocating to France
People from many parts of the world are keen on settling in France. Some eye the bright city lights of romantic Paris, whereas others set their hearts on the beautiful French countryside. However, moving to France requires thought and planning. This is where we can help you.
For those who are settled in France, you are aware that whilst most young people in France speak some English, French is the official and spoken language in Government offices. The French are, in many ways, very proud of their language and culture and expect those living here to adapt to their lifestyle.
Without a thorough understanding of the French language, you could get lost in the administrative maze that France is well known for. We can guarantee that it is baffling for some French too! That is why we are here to assist and explain to you the various administrative procedures that you may wish or be subject to undertake, such as purchasing a property, subscribing to utility services and insurance policies, obtaining a residency permit, setting up your business and so on. We can assure you that once settled, life in France is most rewarding!