Years ago I read about the importance of creating a good impression of your property to potential buyers during the viewing process. You need to stage your home in order to showcase its full potential. You need to create that all important first impression as most buyers do not have the vision to see beyond the clutter and sometimes garish colour schemes. Failure to do so could compel buyers to reduce their offers or to simply walk away. Here are my tips on how you can showcase your property and sell it successfully.
First Impressions Count
You have one chance to make a good first impression. Potential buyers form an opinion of your property within the first fifteen seconds. It is therefore important to create the right look for your home if you plan to sell it successfully.
Kerb appeal:
The general appearance of your property includes everything from the street to your front door. Take care to ensure that every part of this visual picture looks at its best.
Ensure that the street in front of your home is clean, remove any weeds growing in the pavement cracks, hide unsightly bins and pick up any litter. Trim your hedges so that they look their best.
Your fences and front gate:
A newly painted fence makes your home look inviting. Do not let a peeling, shabby fence or a rusty front gate hinder a potential buyer's first good impressions.
Garden and front path:
A well-tended garden and a recently mown lawn can give the impression of a low maintenance garden which is an encouraging factor to most prospective buyers. Likewise, make sure that the path leading to your front door is tidy.
Driveway:
Ensure that your driveway is neat and free from weeds. Consider parking your car elsewhere if it blocks the view of your house. Make sure that there is ample parking space for your visitors.
Exterior:
A recent coat of paint is a wise investment as it could increase the value and saleability of your home.
Replace any cracked or broken window panes and ensure that they are clean.
Window boxes are eye catching and appeal to the senses. Add them if possible.
Roof:
A well-maintained moss free roof is an important detail to check. Make sure that there are no missing or displaced tiles/ slates and that the guttering and downspouts are clean.
Front door:
The front door is also an important element to take into account. It is the initial point of focus when approaching the house. Clean and repaint the front door if required. Make sure that the house number is visible.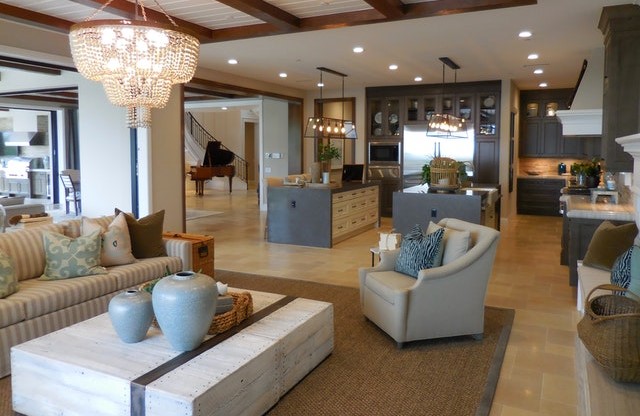 Appeal To The Senses
An appealing and saleable interior can be staged for surprisingly little cost. Bear in mind that your tastes may not suit others. You have to think of depersonalising your house slightly. Remember, people are often buying into a lifestyle as much as a property. Flaunt the attractive side of your lifestyle. I highly recommend that you consider the following factors.
Lighting:
It is well known that lighting plays an important role in the presentation of your property. Use appropriate lighting to highlight and enhance certain features such as a stone wall, beams or fireplaces. Dim certain areas in order to render a cosy ambiance.
Judicious placing of mirrors can give the impression of space and light. Curtains and blinds should be opened to maximise available natural light. Make sure that the windows have blinds or curtains as undressed windows make a place feel unfinished and cold.
Colour schemes:
Use pastel shades and neutral colours for the exterior. Certain French towns which are listed, like the "petite cité de caractère" label in Brittany, have a set of colours that are permitted for external walls, as well as for doors and windows.
For the interior, shades of white, off-white and very light pastels give rooms a light and airy atmosphere. Use bright colours sparingly on soft furnishings to contrast with the walls.
Aromas:
Smell is an important element to look into. It can work for or against you. Air the house as much as you can.
A fresh smell is important, particularly in kitchens and bathrooms. The use of furniture polish or better still, the smell of cake or bread baking in the oven can also improve in staging the right atmosphere. Fresh flowers, pot pourri and fresh coffee smells can also help. Avoid unpleasant smells such as damp, cigarettes, pet and cooking odours. On the other hand, use air fresheners sparingly!
Noise:
It is important for the visitor to enter into a peaceful and relaxing atmosphere.
Ensure that the kitchen and mechanical appliances, such as dishwashers, washing machines and spin dryers, are not being used during the visit in order to keep noise to a minimum. Remember that constantly barking dogs are off putting. Make sure that your children are peacefully occupied.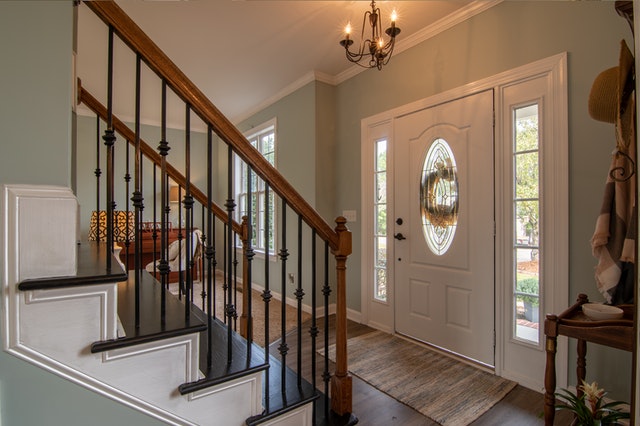 Staging Your Interior
Entrance Hall:
Your entrance hall is the first view of the interior of your property. Make it welcoming to the buyer by having it well lit and tidy.
Living space:
A spacious and uncluttered living room creates an elegant area for entertaining guests.
Ensure that your furniture and rugs are placed in the right areas to maximise space. Highlight features such as fireplaces and beams that add character. Use mirrors where necessary to make your room seem larger and brighter.
In the colder months, a lit fireplace or wood burner makes the room feel inviting. In the spring and summer months it may be appropriate to decorate the fireplace with interesting objects and healthy plants.
Ensure that the carpets are clean and that any cosmetic plaster cracks are repaired. The latter applies to any room in the house. Fresh flowers are always attractive.
Kitchen:
The kitchen is one of the most important rooms in the house.
Make sure that the kitchen units are in good condition as they have a direct effect on the value of your property.
If the kitchen is in bad repair, it may be worth updating it without spending a fortune.
It goes without saying that the kitchen too should be spotlessly clean and smelling fresh. Declutter work surfaces by removing any small appliances. You have to create the illusion of space. It may be appropriate to give the kitchen cabinets a facelift by installing new doors, hardware or by simply painting them if in wood.
Do not forget to tidy the contents of your cupboards as some buyers may wish to check the storage space!
Bathrooms:
Bathrooms are important too. Again, declutter personal toiletries to give the impression of space.
Air well prior to the visit and add air freshener. Remove any mould from showers and baths and freshen the silicon joints where necessary. A heated towel rail radiator is an added bonus.
Bedrooms:
Bedrooms are very important. They need to be clean and tidy and not over furnished.
It is imperative for the rooms to smell fresh. Consider coordinating bedspreads, curtains and rugs. Bedside lamps brighten a room and add a cosy ambiance. Think of placing mirrors or mirrored wardrobe doors to make the rooms feel spacious.
Viewing Etiquette
Make sure that you are at home well before the appointment to view your property.
It is important for viewers to visit your property at their own pace without feeling uncomfortable by the number of persons present in the house. Family members should remain discreet.
Be pleasant and honest when replying to any questions. This is important because, under French law, if the buyer finds that you expressly omitted to state any apparent defects (that could undervalue your house or even render it unsaleable), you are legally bound to compensate the buyer.
Although you or the property agent would be showing the house to potential buyers, I would suggest storing any valuables in a safe place in order to avoid any unpleasantness.
Conclusion

Potential buyers need to be able to visualise themselves living in your house. You are not only selling a home, but also a lifestyle.
I hope that some of the tips presented here will help you prepare your home for the market. Bonne chance!
Should you wish to sell or buy a property in Brittany, France, I would be pleased to assist you during the process. My services include visiting properties you are interested in, putting you in touch with efficient real-estate agencies and Notaries, liaising with them on your behalf, as well as my translation and interpreting services. It always helps to have an experienced professional like me to ensure that progress is being made and to check that the transaction is completed as per your terms and conditions. For more details, please visit this link.